About Por Vida Academy Charter District
One of the original charter districts in the state of Texas, Por Vida means "for life" and defines our commitment to our students—to educate students and provide them with knowledge, self-respect, and skills that will be with them for life.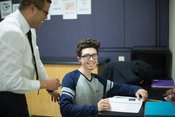 Our Mission
To prepare students for life beyond high school by providing a supportive environment, holistic learning approach and by being a respectful and committed organization.
Our Vision
We support success through education by providing our students an innovative educational experience.
Why Por Vida?
Charter schools were designed to offer parents and students an alternative to traditional public schools to meet varying social and educational needs. We here in the Por Vida district work very hard to provide you with an excellent alternative.
Here are the top 5 reasons why our charter high schools are providing an outstanding alternative educational experience to public schools for students.
1. Our schools provide an array of academic, social, and emotional supports to meet each student's needs.
2. We have effective and compassionate teachers and school leaders who are committed and dedicated to the success of every student.

3. Our educators ensure that every student is individually known and given an educational experience where they can thrive.
4. Our teachers and school leaders are given the latest research-based supports they need to be the very best in meeting students' needs.
5. When our students graduate, they leave prepared with the resources they need to be successful in career and life.

Our High Schools

Por Vida Academy High School (San Antonio)
Location: 1135 Mission Road, San Antonio, TX 78210
Grades: 9-12

Por Vida Academy at Corpus Christi
Location: 4613 South Padre Island Dr., Corpus Christi, TX 78411
Grades: 9-12


Por Vida Charter School District and its educational programs do not discriminate with regard to race, color, religion, sex, national origin, age, disability, veteran status, or any other characteristic protected by law in accordance with applicable federal laws, including, but not limited to Title VII, Title IX Section 504, and Title VI, the American with Disabilities Act, 422 U.S. 12112 (a) (b), and Section 504 of the Rehabilitation Act of 1973, in its educational programs, employment, and activities.
In addition, PVACC complies with applicable state and local laws governing nondiscrimination. This policy applies to all terms and conditions of employment, including but not limited to, hiring, placement, promotion, termination, reduction in force, transfer, leaves of absence, compensation, training, educational programs and school activities.
If you have any questions concerning this policy or feel that the policy has been violated, please contact Superintendent Joseph Rendon.