We are seeking bold educators—both new and experienced—who are ready to take on their next challenge in changing the trajectory of students' lives in San Antonio and Corpus Christi.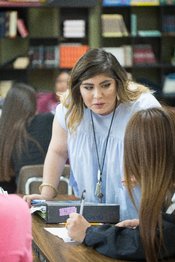 ABOUT YOU
Do you believe all students can learn?


Do you have grit and perseverance when taking on new and challenging endeavors?


Do you have a passion for working with students who may have not been successful in the traditional school system?


Are you hungry for more support, coaching, and professional growth opportunities to grow as a teacher?


Do you live in San Antonio or Corpus Christi?
Then we invite you to consider joining us!
ABOUT OUR STUDENTS
We serve students in grades 9-12 across all major subject areas as well as career and technical education (CTE) courses.
Our students come to us from a wide variety of backgrounds—with most coming to us as their last hope to graduate from high school.
WHY TEACH IN PVA SCHOOLS
There are so many reasons why both new and experienced educators choose to work in our schools. Here are the top six reasons.
1. Incredible opportunity to have a life-changing impact on students who have been at risk for dropping out of high school and provide a positive new future for them.
2. Work in a close-knit, supportive community where you can continue to grow as an effective educator.

3. Engage in world-class professional development and coaching.
4. Be mentored by an experienced educator (if you are a new teacher).
5. Earn a base pay that may be commensurate with several nearby charter and traditional schools along with opportunities for performance pay based on students' growth and movement up in the career ladder.
6. Follow a clear path for upward career progression, including opportunities to become a career teacher leader and expert teacher leader.
APPLY NOW
Please select your school preference below and complete the form. You may fill out multiple forms if you are interested in applying to more than school.


We'll review your form within five to seven business days. If your qualifications are a match for our needs, we'll be in touch to set up an interview.
Thank you for your interest in PVA!
Por Vida Academy Charter School District and its educational programs do not discriminate with regard to race, color, religion, sex, national origin, age, disability, veteran status, or any other characteristic protected by law in accordance with applicable federal laws, including, but not limited to Title VII, Title IX Section 504, and Title VI, the American with Disabilities Act, 422 U.S. 12112 (a) (b), and Section 504 of the Rehabilitation Act of 1973, in its educational programs, employment, and activities.
In addition, Por Vida Academy Charter School District complies with applicable state and local laws governing nondiscrimination. This policy applies to all terms and conditions of employment, including but not limited to, hiring, placement, promotion, termination, reduction in force, transfer, leaves of absence, compensation, training, educational programs and school activities.
If you have any questions concerning this policy or feel that the policy has been violated, please contact PVA Superintendent Joseph Rendon.